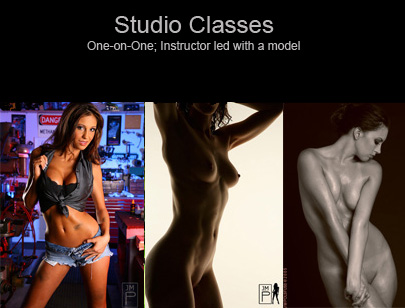 Studio Lighting I - 1hr - $100
Introduction to studio lighting
Strobe vs Continous (Hot Lights)

Monolights
Pack Lights
Tungsten
Halogen
HMI

Modifiers

Grids
Soft Boxes
Reflectors
Snoot
Gobos
Studio Lighting II - 1hr - $175 (Includes Model)
Basic studio lighting with strobes
One light method

Various Modifiers
Controlling shadows
Style and Storytelling
Basic posing
Studio Lighting III - 1hr - $175 (Includes Model)
One light method review
Two light basics (strobe)

Various Modifier
Controlling shadows
Creating Highlights
Style and Storytelling

Posing the model-Repoire building
Multi Light Sets (strobe)

Overview
Set lighting vs Modeling lighting
Gels
Hair Light
Rim Light
Studio Shoot - 1hr - $175 (Includes Model)
I will lead you in learning posing, lighting, communication and direction, I will help you design images with creativity and focus to enable you to grow and improve your photographic ability in all areas. We will cover how to market yourself to potential models, communicate to the models to obtain maximum impact and use of your time.
This shoot will allow you the opportunity to start building a portfolio.
A few topics we will cover
Matching your lighting to your subject matter

Use of different studio lighting setups

Controlling the main light with modifiers

Balancing rim and hair lighting to your main

Use of a variety of reflectors for fill

Protocols and ethics in communicating and posing the models

The difference between Art and Glamour Nude
All skill levels are welcome.
Minimum Requirements
Film or Digital SLR required,
You must be willing to plug into the standard studio sync cord.